I write about a project on @github, the next day it'll have at least 4x as many stars as before the article. At least.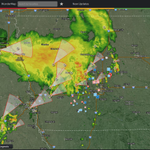 Glad I got all my mowing/outside work done yesterday. Cuz it's gonna rain today. pic.twitter.com/W1u9si3YDp
@lifeiscontent sure I would! What kind of timeline you looking to have docs finished?
Dead limb fell out of a tree while I was mowing, missed me by a couple feet. Pretty sure the universe is trying to rid itself of me.
Putting final touches on some css then out to mow the yard. Had a little more than an inch of rain here yesterday, btw.
Baby doctor appt has gone well. Piper sure endures stress well. Just like her daddy, and big sister.
Near accident caused by Des Moines police officer having no idea where his car was actually located on a turn on 235 west. Terrible.
26 people followed me and 15 people unfollowed me // automatically checked by fllwrs.com
Fuck it's terrible outside. Going to have to find a window air conditioner for upstairs until we can get central air next spring.
Gotta stop using my right hand to drive. Pinky finger is killing me.
Invoice sent and paid 10 minutes later. Wish all clients were like that.
Working with a probably broken pinky finger is getting to be quite difficult and painful.
Just fucking rain already. Or don't, and give me a chance to mow tonight.
@KCITP weekend was great. How about you guys?
@doctor_wheat ouch yes. Just laid there on my back and eventually couldn't help but laugh. Think I got a broken pinky finger out of it too.
@doctor_wheat Fell from a swing, the seat snapped in two as I was about 20 feet up. Was a hard landing, lol.
Now that my foot is recovering nicely, my tailbone is becoming more and more painful. Really thought I was clear there. :/
Will be on the lake all day. Don't bother me. First day I haven't worked in 3 months at least.
dozens of people followed me and 20 people unfollowed me // automatically checked by fllwrs.com
Just fell about 15 feet. Swing broke, I fell, mostly Ok, I think. Lol'd.
You're right, communication is key. Do it.